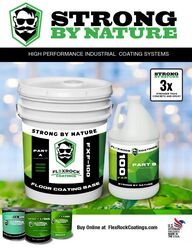 Return to flip book view
FlexRock Flooring Brochure & TDS
Page 1
HIGH PERFORMANCE INDUSTRIAL COATING SYSTEMS3x STRONGER THANCONCRETE AND EPOXY Buy Online at FlexRockCoatings.com
Page 2
Call for Vendor pricing: 800.808.0414 info@FlexRockCoatings.comGET COATEDBeats ALLtraditional floor coatings HANDS DOWN on durability, turnaround time and cost! Safest food-grade material which makes it the smart choice Thicker is better, 10x thicker! FlexRock Coatings™ base has no solvents, is self-leveling, and onceinstalled dries quickly. This thicker system is perfect for filling cracksand imperfections on new or tired old warehouse floors.Recommended thickness of 32 mils (250 sf / 5 gal) Coverage: 200-225 sq ft. / Kit. depending on technique & surface condition.STRONG BY NATURE • HIGH PERFORMANCE INDUSTRIAL COATING SYSTEMFlexRock Coatings™
Page 3
FlexRockCoatngs.com | 800.808.0414 | info@flexrockcoatings.comCost Effective VOCCompliant Coating System FlexRock Coatings™ are super flexible, highly protective and has passed forward and reverse impact tests.ECO FRIENDLYECO FRIENDLYSTRONG BY NATUREZero VOCs FlexRock Coatings™ base has no solvents, it installsand dries very quickly even through many layers because of itsautobonding properties. This thicker system (30 to100+ mils) isperfect for filling surface cracks and imperfections.FlexRock Coatings™Adhesion FlexRock Coatings™ are 2x-3x stronger than epoxy andbonds to virtually any substrate in seconds. Bonds to metal, asphalt,fiberglass, wood, concrete, brick, block, asphalt and more.CostFlexibllity FlexRock Coatings™ are very cost effective. It applieseasily and requires no use of potentially contaminating andexpensive solvents to dispose of. The overall life cycle costs aremuch lower.PerformanceDurabilityand ThicknessEnvironmentHealthand Safety FlexRock Coatings™ manufacturing process(100% made in the USA) is completely earth friendly. Madefrom plant based oil, natural minerals and the added strength ofhemp.
Page 4
"FlexRock Coatings is the best floor coating material I've ever worked with - hands down. The natural, food-gradefloor coating is very easy to install and lasts longer than every type of floor coating I've used in the past. I've beeninstalling FlexRock in some massive commercial facilities throughout the USA for the past couple years and havealways had an exceptional experience working with this company. Thank you, FlexRock!"Will G, Pure ConstructionBuy Online at FlexRockCoatings.comFlexRockCoatngs.com | 800.808.0414 | info@flexrockcoatings.com
Page 5
VOC Compliant in all 50 States.Food-grade and environmentally benign.Made of natural products, plant based oil, natural minerals andhemp.Incredibly durable in the harshest of weather conditions andatmospheric pollution.Strongly bonds to metal, asphalt, fiberglass, wood, concrete,brick, block in seconds.98 -100% adhesion compared to just 50% for epoxy.Tensile and bond strengths are the same.Autobonds 100% to previous FlexRock™ applications with notime limit.Remains flexible with 50 - 100% elongation protecting againstexpansion/contraction stress.Thermal and electrical insulating properties. Dries in 24 hours. UV ResistantThis material is:GET COATEDFlexRock Coatings™KEY BENEFITSSTRONG BY NATURE • HIGH PERFORMANCE INDUSTRIAL COATING SYSTEM
Page 6
ESTIMATED TENSILE STRENGTH - ASTM D412: 900 PSI (6MPa)PULL-OFF STRENGTH FROM STEEL - ASTM D4541: 1000 PSI with 95-100% cohesiveESTIMATED ELONGATION - ASTM D412: 50-100%HEAT RESISTANCE - CONTINUOUS: 212F / 100CMINIMUM SERVICE TEMPERATURE: - 20 to - 40 F / - 30 to - 40 CWATER ABSORPTION - ASTM D570:0.3% - 30 g/m2 @ 185F / 85C for 30 days.PERM RATING - ASTM D1653: USA PERM rating of 5 PERMS for 0.030 to 0.050 inches thicknessFLEXROCK FX-100 TECHNICAL SHEETPOT LIFE: LESS THAN 45 MINUTESCURE TIME: 12 HOURS TO TOP COAT. 24 TO 36 HOURS TO FULL CURECOLD RECOAT WINDOW: WILL ALWAYS RE-BOND TO ITSELF. SOLIDS: 100% SOLIDS,SOLVENT FREE, VOC FREE COMPONENTS: PART A: PLANT BASED OIL, HYDRATED GYPSUM - PART B:POLYMERIC (MDI)UN-CURED PRODUCT PROPERTIESFINISHED PRODUCT CHARACTERISTICSODOR: Mild, pleasant vegetable oil and minerals odor prior to curing - dissipates completely upon fullcure.WATER RESISTANCE: High resistance to water, sea water, hot or cold. SOLVENT RESISTANCE: High resistance tomost petro-chemical solvents with few exceptions. Refer to chemical compatibility charts. UV RESISTANCE: UVcauses the material to discolor after prolonged exposure. No substantial degradation of coating. FlexRockCoatings.com | 800.808.0414 | info@FlexRockCoatings.comFLEXROCK COATINGS HAVE A WIDE APPLICATION TEMPERATURERANGE. FOR COLD-WEATHER ROOFING APPLICATIONS, THETEMPERATURE CAN BE AS LOW AS 45°F. FLEXROCK TAKES 24-36HOURS TO CURE FULLY — IN BELOW FREEZING TEMPERATURES, THECURE TIME MIGHT BE SLIGHTLY LONGER.
Page 7
The FlexRock Coating™ floor coating system is professionally engineeredto give the best performance and value by combining the FlexRock basecoat with its natural and unsurpassed adhesion and elastic qualities, withtop coat flooring selections that provide a quick return to service.FlexRock for Cultivation FacilitiesWhy wouldn't you GET COATED?FlexRockCoatngs.com | 800.808.0414 | info@flexrockcoatings.com
Page 8
ECO FRIENDLYECO FRIENDLYFlexRockCoatngs.com | 800.808.0414 | info@flexrockcoatings.comModified ShippingContainer FlooringFlexible and DurabilityGMP CompliantFood GradeQuick DryingWithstands Structural MovementSelf Leveling No Maximum Mil ThicknessSTRONG BY NATUREZero VOCsFLEXROCK FX-100
Page 9
BeforeFlexRock Coatings™AfterECO FRIENDLYECO FRIENDLYFlexRock Coatings™FlexRockCoatngs.com | 800.808.0414 | info@flexrockcoatings.com
Page 10
"Full cure was achieved within 24 hours"We travel around the country doing industrial floors as wellas doing high end interior design. The FlexRock Coatings System is my go to for concreteflooring. It's just amazing! The adhesion you get from it is unparalleled and has an amazingfinish.FlexRockCoatngs.com | 800.808.0414 | info@flexrockcoatings.com
Page 11
BeforeFlexRock Coatings™AfterFlexRock Coatings™FlexRockCoatngs.com | 800.808.0414 | info@flexrockcoatings.com
Page 12
BeforeFlexRock Coatings™AfterFlexRock Coatings™FlexRockCoatngs.com | 800.808.0414 | info@flexrockcoatings.comFills Deep Cracks & Imperfections Great For Outdoor Applications
Page 13
FlexRockCoatings.com800-808-0414FlexRockCoatngs.com | 800.808.0414 | info@flexrockcoatings.com
Page 14
FlexRockCoatngs.com | 800.808.0414 | info@flexrockcoatings.com
Page 15
Buy Online at FlexRockCoatings.comGET COATEDSTRONG BY NATURE • HIGH PERFORMANCE INDUSTRIAL COATING SYSTEMLEARN THE BASICS OF HOW TOINSTALL FLEXROCK BASE COATFLEXROCK COATINGSCONCRETE PREP GUIDENACE SURFACE OFCONCRETE PREP GUIDEStep by Step Instruction for Workingwith FlexRock Coatings BaseEasy Guide FlexRock CoatingsConcrete Prep GuideDown Load HereDown Load HereDown Load HereTraining Docs
Page 16
Buy Online at FlexRockCoatings.comGET COATEDSTRONG BY NATURE • HIGH PERFORMANCE INDUSTRIAL COATING SYSTEMOur factory-direct program is straightforward and designed to saveyou money by providing volume discounts with pre-designed floorcoating packages for industrial and commercial projects.At FlexRockCoatings™, we pride ourselves by producingoutstanding products that are both extremely durable and support asustainable industry. We value customer satisfaction and integritywith our industry partners.Our Installer Network is comprised of flooringprofessionals that have years of commercialflooring installation experience.Need a Professional Installer? We can help!Flooring InstallationFlooring RepairShot Blasting/Diamond GrindingMoisture Mitigation ECO FRIENDLYECO FRIENDLY
Page 17
INSTALLERNETWORKN E E D A N I N S T A L L E R ?Choose Full Service Installation fromContractors In Your AreaSTRONGER THAN EPOXYWe have an Online Video Training and Resource for your crews, or a highlyskilled network of Professionals for you to choose from.STRONGER THAN CONCRETEFlexRockCoatngs.com | 800.808.0414 | info@flexrockcoatings.com